Programmable Mini Drone: ESPcopter
ESPcopter was successfully Funded at Crowdfunding. You can still pre-order at our store web site.
Feel free to ask a question: [email protected]
Introducing Espcopter
After more than two years of continuing research, development and testing here is the most hackable and affordable mini-drone ESPcopter.
Our Corporate Supporters

What is the ESPcopter programmable mini-drone?
Espcopter it is unique small size mini-drone that is a wirelessly networkable, interactive and programmable drone.
Rewards:
ESPcopter Box Contents:
​​​​​​
1 Piece ESPcopter board.
1 Piece 240mAh Li-Po battery.
1 Piece propeller protector.
4 Piece reserve propellers.
1 Piece battery holder shield
1 Piece Solder shield
1 Piece propeller disassembly tool.

ESPcopter Education Sets:
Maker Workshop and Class Packs:

ESPcopter 5-Stem Training Package:
It has 5 pieces ESPcopter Stem Training kit box:
Two landing pad
5 extra battery
1 multiple chargers

ESpcopter 5-Pack Full Kit Training Package:
It has 5 pieces ESPcopter Full Kit Stem Training kit
2 landing pad
5 extra battery
1 multiple chargers

Why Students Should Learn Drone Programming?
An important part of Drone technology is provided by the flight control software. If a suitable software can be written for a drone, it can be operated in all weather conditions.
If students are trained in drone software, they can develop software in many areas such as defense industry, aerospace and aircraft technologies, especially drone, which is the technology of the future.
How to program ESPcopter?
Blockly Programming
We developed a fully online blockly coding web site for students who are new to coding education.
You can access the Block Programming interface via this link: http://espcopter.com/1513-2
Swarm Drone With Blocks
Arduino
Arduino is one of the most popular microcontroller coding languages of recent years. We have developed an open-source Arduino library for the ESPcopter.
ESPcopter can be programmed by using commands that are in the ESPcopter library. To the so you can learn Arduino programming from beginner to advanced.
ESPcopter Arduino SDK(Türkçe):
http://espcopter.com/wp-content/uploads/2016/09/espcopter-sdk.pdf
ESPcopter Arduino SDK(İngilizce):
http://espcopter.com/wp-content/uploads/2016/09/ESPcopter-SDKEnglish.pdf
Visuino
Visuino is the latest innovative software from Mitov Software. A visual programming environment allowing you to program your ESPcopter boards.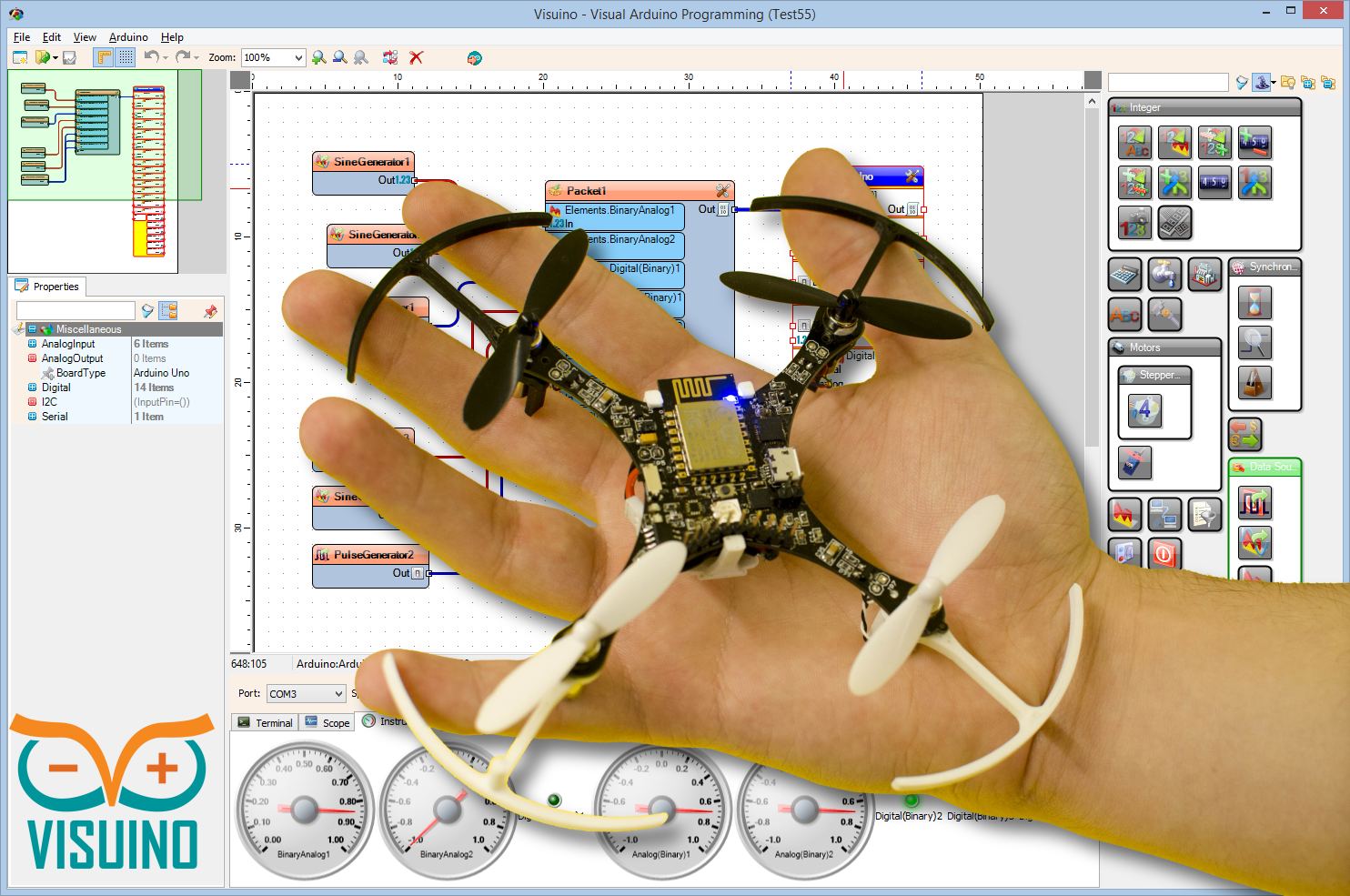 How Can I Control ESPcopter?
Control with RemoteXY
RemoteXY is an IoT platform where you can make your own ESPcopter phone application by drag and drop over the internet. With this platform you can make your own control and develop it in various IoT applications.
Web address: www.remotexy.com

You Can Design Your Mobile Phone Control APP By Using RemoteXY
Computer Control With Processing App:
You can connect the ESPcopter to your computer through the application we have written in the Processing language. You can also control the ESPcopteri with gadgets such as mouse keyboard, game consoles that can connect to the computer.
What are the Technical Specifications of ESPcopter?
Thanks to its modular structure, you can add new features to ESPcopter By Using Sensor Shields
What are Development Modules?
ESPcopter Optical Flow Module:
The optical flow module measures the movement of the ESPcopter over the ground, allowing the drone to remain stable in the air and to perform autonomous tasks.

ESPcopter Multi-Distance Module:
There are laser sensors on the multi-distance module with 1-meter detection distance facing forward, backward, right and left. With this module, you can do applications such as collision prevention, autonomous flight or hand control according to the distance to the walls.
Other Modules:
ESPcopter Neopixel Module:
There are 12 NeoPixels in this circular card. It can connect to the ESPcopter's top input pins.
You can use the NeoPixel module to make various light shows while flying with the ESPcopter.
ESPcopter Buzzer Module:
There is one buzzer in the buzzer module. It can connect to the ESPcopter's top input pins.
You can play music through the Buzzer module when you are not flying, and you can hear the warning sounds when you fly.
ESPcopter Temperature Pressure and Humidity module
This module has one BEM280 sensor. It can connect to the ESPcopter's top input pins.
You can use this module to record weather data while flying or you can send these data to your phone or computer over the internet in your IoT project.
ESPcopter Altitude Hold Module
This module has one VL53L0x sensor module. It can connect to the bottom input pins of the ESPcopter.
Using this module, you can measure the height of the ESPcopter up to 1.2 meters and automatically fix the height of the drone.
You Can Design Your Own Propeller Protector

Why we are making Crowdfunding?
Our aim is to teach programming and drone algorithms to students around the world. ESPcopter is the best option to do this due to unlikely drone market, it is open-source and ESP8266-Arduion based.
We are working on ESPcopter project for three years with our own resources. If we achieve our goal, we will have more chance to develop new features like swarm drones.
Supporting ESPcopter is not just getting a drone but also investing valuable learning with unlimited possibilities.
Risks and Difficulties
Most of the risks and challenges are behind us. However, we have identified several risks and challenges to manufacture and deliver our product. ・Quality control So far we have tested our prototypes in our laboratory intensively, but mass production is going to be a different story. We plan to purchase a part of our components from outside our countries, which means there is a risk of unexpected inferior goods or delay. ・Supply chain We are going to purchase components from countries, which means we have to manage our supply chain over multiple countries. To reduce risks around the supply chain, we have already specified and communicated with the supplier of all components. In order to bring the cost down to an affordable amount, we have to order at least 5,000 units from the manufacturer.
10 Ekim 2015
Project Launched.
Metehan Emlik ilk ve orta öğrenimini Sivas'ta tamamladı. Şu an da Özyeğin Üniversitesi elektrik elektronik mühendisliğinde okumaktadır.
Programlanabilir Mini Drone: ESPcopter
ESPcopter nedir?
ESPcopter küçük boyutlu internete bağlanabilen, her cihazdan kontrol edilebilen Drone yazılımı geliştirme kartıdır. Yazılım bilmiyorsanız; ESPcopter'ın internet sitesinde bulunan ve Drone ile gelecek olan eğitim kitapçığı sizlere yardımcı olacak. Bu sayede Aurdino üzerinden, başlangıç seviyesinden ileri seviyeye kadar programlama öğrenebilirsiniz. Ayrıca internete bağlanabilme özelliği sayesinde, mini Drone'u telefon veya bilgisayara bağlayarak ¨Nesnelerin İnterneti¨ projenizi gerçekleştirebilirsiniz.
ESPcopter nasıl kullanılır?
ESPcopter'ın internete bağlanabilme özelliği sayesinde hemen hemen bütün Nesnelerin İnterneti platformları ile etkileşime geçerek çalışan uygulamalar yapabilirsiniz.
Block programlama, kodlama eğitimine yeni başlayan öğrencilerin için geliştirilmiş bir programlama türüdür. ESPcopter sitesinde, block programlama sistemini full online olarak kullanıcılarına sunuyor.
Diğer bir programlama türü ise; IoT Block programlama sistemi. Bu sistem sayesinde öğrenciler Drone'larını herhangi bir mesafe kısıtlaması olmadan, istedikleri yerden programlayabiliyor.
Mini Drone; telefon, bilgisayar ve rf kumandaları ile kontrol edilebiliyor. Android, iOS ve Linux işletim sistemleriyle birlikte de çalışabiliyor.
ESPcopter'ın özellikleri ve avantajları
ESPcopter internete bağlanabilme özelliği sayesinde, mini Drone telefon veya bilgisayara rahatça bağlanabiliyor ve Nesnelerin İnterneti projenizi rahatlıkla gerçekleştirebiliyorsunuz. Ayrıca, programlanabilme özelliği sayesinde Drone programlanması ve algoritmaları konusunda kendinizi geliştirebilirsiniz. Geleceğin taşıtları kabul eden Drone'ları kullanmak istiyorsanız, kontrol etme yollarından birini kullanarak Drone uçurmayı öğrenebilirsiniz!
ESPcopter kimler tarafından kullanılabilir?
Drone teknolojisi, son dönemlerin en hızlı gelişen alanlarından birisi olarak gösterilebilir. Öyle ki hava fotoğrafçılığı, haritacılık, askeri uygulamalar, gözlem ve kurtarma operasyonlar da dahil olmak üzere birçok alanda kullanılıyorlar. Gelecekte Drone'lar sadece ulaşım alanında değil; kargo taşımacılığı, sürü Drone uygulamaları ve tarım gibi birçok alanda kullanılmaya başlayacak.
ESPcopter, öğretme amaçlı bir sistemdir. Drone uçurmak isteyen, yazılım öğrenmek isteyen herkes tarafından kullanıma uygundur.
Haydi gel, Drone'ları geleceğe uçuralım!